This webpage is going to be relaunched soon! Stay tuned!
What does the SoccerCoin Network offer?
The SoccerCoin Network offers a comprehensive technical solution for the uncomplicated processing of transactions that concern football, in football stadiums, in clubs, and their sponsors. Thereby the new Blockchain Technology is utilised:
The self-explanatory interfaces and our software make network usage as simple and convenient as possible. The simple usage for new users and the implementation of ready-to-use functionality allow unproblematic participation for all fans of all ages.

The users experience a real benefit from SoccerCoin in comparison with other current solutions. All operations are efficient, and they save time, money, and energy to make SoccerCoin economically and ecologically viable. Therefore, SoccerCoin offers not only an idealistic but also practical value. Besides, the enormous energy consumption associated with "mining" is not needed.

Cybercrime can be the bane of the 21st century. Thus, the security needs to be an integral part of the network and user interfaces such as wallets and APIs. With the expansion of distributed databases and digital currencies, the risk for the individual user increases (e.g., by theft, extortion, and fraud). Hence, the safety from cybercrime is an integral element of our networks and our user interfaces.

At present, there is generally no technology that expresses full trust.
However, the Soccercoin Network strives to provide appropriate infrastructure to be able to build and to maintain a higher level of trust and security.

The other key aspect of the SoccerCoin Network is the rapid processing of all data transactions as well as meaningful extensions of technologies for frequently required processes. According to the motto "people-to-people", the project belongs to communities and thus driven by them: everyone can participate in the project. The project and the community should benefit from the exchange between each participant/user/ programmer.

Distribution / Data protection

There should be no central authority that has control over accounts and assets. Only the user has access to own accounts and assets and nobody is allowed to access it without user's consent. The user only has access to own accounts and assets, and nobody is allowed to take hold of it without the user's consent. Therefore, SoccerCoin's data privacy app is an integral part of the network. It enables to bring personal data under one's own control. Thus, data transfer is not possible, because the app gives only read permissions and only after personal consent.

The SoccerCoin-project can detect errors, maintain and improve its internal operations. It analyses independently attack vectors, identifies them, and develops the appropriate prevention methods.

Environmental protection and new awareness

Regarding social responsibility, we believe there is big room for improvement in business as well as for the general public. Each individual being has the chance to promote charity and research alike. With our Soccercoin project, we want to prove that and let everyone be a part of it. With huge unprecedented global clarifications and campaigns in field of environmental protection, we will win politics, business and all humans for a collective reorientation.
I am convinced that the cool application of this technology in sports through SoccerCoin
will succeed – for the 100% benefit of athletes, clubs and fans.
Andreas Dober
Pro Soccer-Player
The SoccerCoin-handcheque-Card
One card – all payment methods
On the display of the SoccerCoin-handcheque-card, you can choose which payment method you want to choose right now. No matter whether ATM payment, Visa, Mastercard, another credit card, or digital currencies, such as SoccerCoins:
In the SoccerCoin-handcheque-app, you define all payment methods beforehand. Even after the payment you can make changes. Bonus cards can also be included in the SoccerCoin-handcheque-card via the app as well. This gives companies the opportunity to inform fans about special offers via their smartphone, of which they can take advantage by using the SoccerCoin-handcheque-card.
The card's mini battery is charged with every payment transaction via NFC.
The SoccerCoin-Chainlock-Card
The secure private-key-solution
The SoccerCoin-Chainlock-Card is the ideal solution for sellers and traders of digital-currencies. It is also perfectly matched to their customers' needs, who want to know their investments are stored both in the medium and long run in a highly secure place.
Secure Storage
Secure Gifting
Secure Bequeathing
Secure Transferring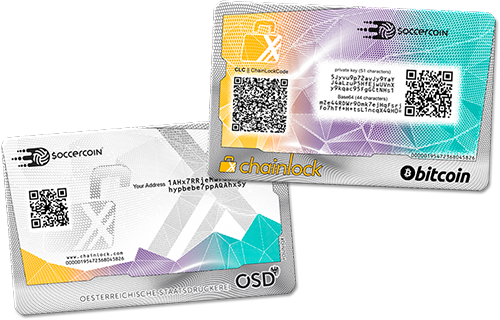 Speed, safety and innovation are the conditions to win –
that certainly applies to football as well.
SoccerCoin has all these features!
Romain Grosjean
F1 Driver
Founding Soccercoin Ltd (Malta)

Founding Soccercoin AG (Vienna)

Start of Development phase 1, Presentation of partners and supporters

Development phase 1; Publication of the white paper

Commissioning of phase 1; Soccercoins Network using the acquired infrastructure; Start of development phase 2

Commissioning of phase 2; Start of development phase 3
I'm not afraid of big jumps.
On the contrary – I made it my profession.
Daring big jumps is also the philosophy of SoccerCoin
… and that excites me!
Senad Grosic
BMX World Champion
Contact us
If you want more information, fill in this form. We will get back to you as soon as possible.
No digital-currency of the world has yet managed to support
as many areas as e-sports. Truly unique!
Mario Viska
Pro E-Sport-Gamer